Welcome to Crella Pty Ltd

Crella Pty Ltd is a manufacturer of Premium Quality Fillings, Toppings, Spreads, Dessert Sauces, Ice Cream Toppings and Milk Shake Syrups

CARAMEL

DULCE DE LECHE

BUTTERSCOTCH

CHOCOLATE

SALTED CARAMEL
Made in Australia from Local Ingredients by Crella P/L
---
Background
Crella was established by Mr Herbert A. G. in 1983.
A range of premium quality fillings for the bakery and pastry cooking industries, quality spreads for the Australian breakfast table, and real dessert sauces in the hospitality and catering industries were become available.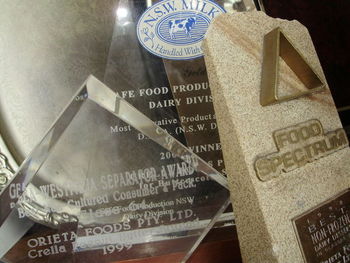 Crella's mission is to create delight for our customers and to introduce new delicious
and high quality products. Crella is proud to say that their products are Australian
made and owned.
Crella products are not fat or stabiliser based and therefore they are real products, manufactured just as they would be, in-house. They are low in fat, extremely versatile and they combine well with other products. All products are manufactured under a strict HACCP based quality system. This system allows Crella to guarantee the quality and safety of all their products.
The quality of Crella products is further confirmed by the number of awards and trophies
HACCP
that they have won, including
awards for best products
.
Food Safe